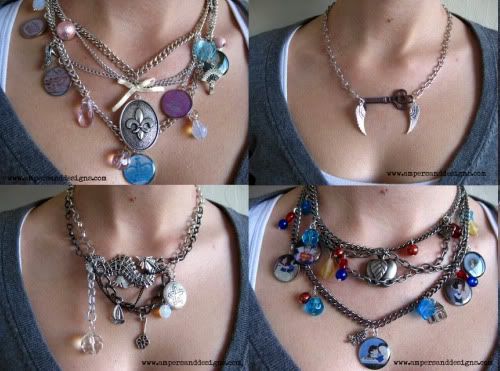 If you're into quirky eclectic fashion, then you have to check out the unique handmade jewelry from Ampersand Designs. Totally rocking cute stuff they have in their collection of Signature, Mid Couture and Courture which you can literally rock and roll with!
Boy I hadn't even realized that their "Fairest Of Them All" Signature necklace will be included in a goodie bag for the pre-Oscar luncheon, attended by the likes of Brad Pitt, Angelina Jolie, Robert Downey Jr, Marisa Tomei and others. Woot! Because someone will get to receive this at the Viva Woman Feb Bejeweled Giveaway.
But besides the signature piece, there are plenty of choices to pick from.  I totally dig their Marie Antoinette Couture Necklace from their Ampersand Couture line/Naughty Or Nice Collection. It's a definite head turner!
And yesh, they ship internationally!